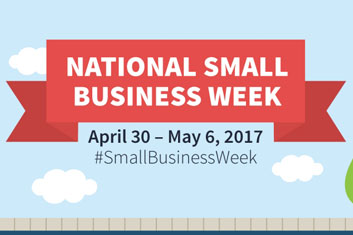 AM&HS Small Business Week, April 30 – May 6
We've recently learned about the U.S. Small Business Administration and the annual National Small Business Week. This observance dates back to 1963, when President Johnson issued a proclamation announcing an opportunity to recognize the contributions made by our country's entrepreneurs and small business owners.
The average citizen might not be aware that more than half of Americans own or work for small businesses. Clearly, this segment of our nation's industry makes critical contributions to the economy – including two out of every three new jobs in the United States each year.
At AM&HS we are proud to be small business owners and are thrilled to be celebrating our 5th anniversary this year. Visit our website to hear more about our journey.

Like many small businesses we began with a dream. We'd known each other for years – our paths would frequently cross at industry events and we routinely referred business to each other. Our extensive background in luxury hotels from operations to food and beverage and conference services provided an excellent foundation for us to create a company committed to providing great value to our clients.
AM&HS is known for an unparalleled level of service. There's quite simply no other firm that does what we do. We decided early on that client satisfaction would be our main driver and we've stayed true to that focus.
Our story is echoed throughout the world of entrepreneurs and small business owners. We had a dream. We made plans. We were fortunate that in 2011 economic indicators lined up with our aspirations and allowed us to pursue our vision.
During National Small Business Week, we salute our fellow business owners and acknowledge the satisfaction that can be found in bringing an idea to life. We invite you to learn more about AM&HS by connecting with us on Facebook or Twitter and engaging our complimentary consultation services for your next meeting or event.
Comment(0)